We recently helped design a set of materials for ROAM 639, a trail in Hindhead created to help raise awareness of Muscular Dystrophy. 
Duchenne Muscular Dystrophy is the most common fatal genetic disorder diagnosed in childhood, affecting approximately 1 in every 3,500 live male births (around 2,500 people have DMD in the UK).
Duchenne results in progressive muscle weakness that leads to serious medical problems, particularly issues relating to the heart and lungs. Life expectancy is improving but young men with DND typically live into their late twenties.
ROAM 639 shares and links some of the tracks used in existing self-guided trails to provide a longer and more challenging option for those who want to cover a larger area of the Devil's Punch Bowl and Hindhead Commons.
The name is derived from the initials of Richard Overall – a young, local man who died from Muscular Dystrophy – and the shared initials of young brothers Alfie and Arthur Marchant whose lives are also affected by this condition. 639 represents the number of muscles in the human body and also indicates the distance of the loop (6.39miles, 10.28km).
The trail was set up by Ian Mayhew, who is good friends with the parents of Alfie and Arthur. The idea was to create a permanent reminder to those of us who are able to enjoy physical exercise of how fortunate we are.
We became involved with the project as we have previously designed leaflets and car park map panels for the 5 trails around the Devil's Punch Bowl and Hindhead Common. After Ian approached Head Ranger Matt Cusack with his idea, Matt got in contact with us and we were more than happy to help.
Mayhew, Cusack and FdK's Stephen Foster made the decision that the leaflet and waymarker design would be based on the National Trust designs so that the ROAM 639 material would sit happily alongside the National Trust material.
The leaflet includes information on the two charities who were directly involved in the creation of ROAM 639; Action Duchenne and The Richard Overall Trust.
Action Duchenne is the most well-established, parent-led Duchenne organisation in the UK, with the primary aim of supporting research advances that will lead to Duchenne treatments. They also focus on campaigning, education and their registry, which is the only Duchenne registry in the UK.
Richard Overall died aged 20 from the Duchenne form of Muscular Dystrophy (Becker is another form of the disorder). During his life, he was determined to live as fully as possible and enjoy his passion for sport. The Richard Overall Trust was established in 2001 by Nicholas Overall in his son's honour.  The trust provides support to disabled people, enabling them to participate in and enjoy sporting activities.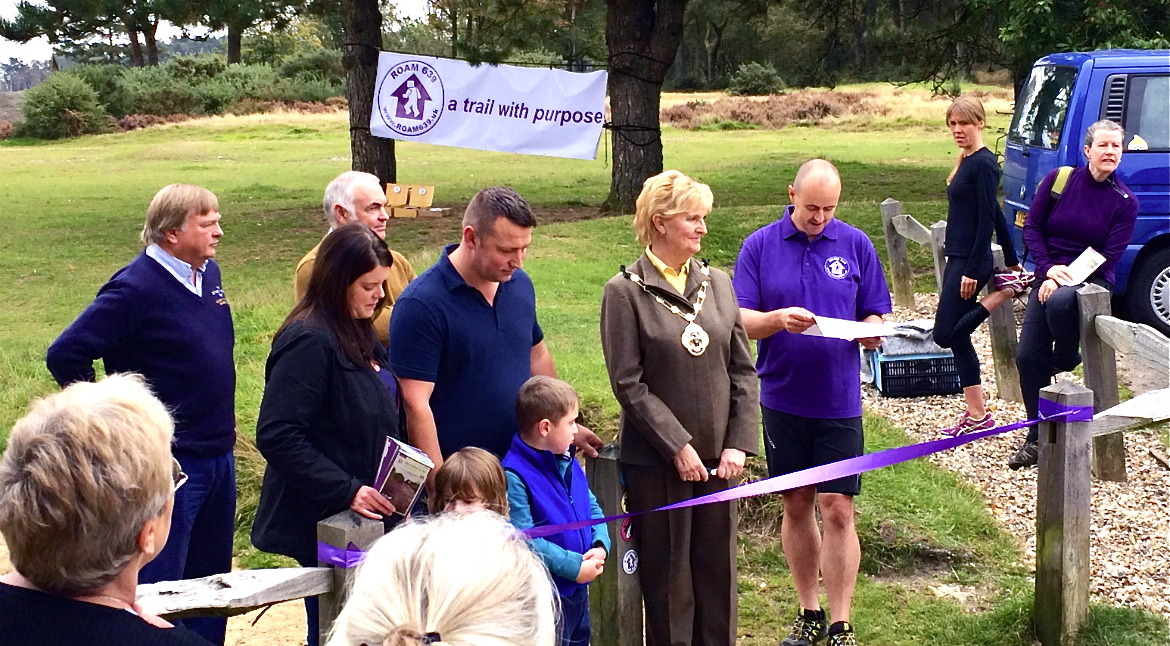 Stephen Foster and his family were invited to the ROAM 639 launch day on September 27th, attended by the Mayor of Waverley and many people who had also supported the project.
The launch involved a 'Start of the Bowl' celebratory run comprising of 10 full laps of the trail for keen runners. There was also the 'Half Bowl' (5 laps) and 'The Saucer' (3 laps) while runners and walkers who simply wanted to enjoy the trail could do 1 or 2 laps at their own pace.
However, none of those runs could compare to Ian Mayhew's commitment, as over the 7 days leading up to the launch day he completed 24 laps of the trail. That's 153 miles of running and 23,000 ft of climbing. A stark reminder that Muscular Dystrophy impacts upon those with the condition 24 hours a day, 7 days a week.
For Stephen, it was a very humbling experience: "Up until the point I first met Ian, although I had heard of Muscular Dystrophy, I did not fully understand what the disease could do."
"My son Jonathan is now fourteen and as I was standing there at the launch event listening to the speeches by Ian and the Mayor, it struck me that at his age, someone with this disease would be in a wheel chair with hardly any ability to move."
During the launch event, Ian presented Stephen and other key people involved with a mini ROAM 639 waymarker post in a wooden case.
"It was a great honour to be given the mini waymarker as a thank you from Ian and I was very proud to have been involved, even in a very small way."
If you would like to know more about Muscular Dystrophy and the work of Action Duchenne and The Richard Overall Trust, you can visit their websites or pick up a leaflet on your next visit to the Devil's Punch Bowl.