An exhibition is a great opportunity to help raise awareness, show off new products and engage with customers directly. However, every other business will be thinking the same thing and trying hard to attract the attention of visitors.
So what can you do to stand out over other businesses also trying to stand out?
We have designed a number of exhibition stands over the years; most recently we worked with our long-term client Elanco to design a stand for the British Small Animal Veterinary Association (BSAVA) Congress in London.
We firmly believe that the most successful stands focus on three things: Attracting visitors, engaging them on the stand and providing them with a clear path to follow up after the exhibition.
To help you decide on how to achieve these things, you need to do your research: What makes your business unique? What makes your products different? Who are your competitors and what do they offer? What sort of people will be attending the exhibition and why?
This research will inform your stand design but will also give you the opportunity to define your objectives. Focusing on a few specific goals instead of trying to promote and sell your entire business will help keep your messaging clear and concise; extremely important in an environment where you may only have a few seconds to engage someone before they walk past.
Once we did our research for the BSAVA Congress, we got to work designing a stand. Deciding on a theme is a good idea as it will help people understand what your business is about and what your ethos is. Elanco have built their brand around innovation, so it was important that we designed their stand with innovation in mind, without simply printing the word on the stand.
Attracting visitors
Careful use of colour is very important. A bright and colourful stand can help visitors pick yours out from others that may prefer to play it safe with white or grey.
Video is another thing that will help make your stand more eye-catching and with video being king in 2016, it can make a huge difference. For Elanco, we created a mix of slideshows and short videos to play on repeat across a set of digital screens. They helped add an extra dimension to the stand and gave people something to stop and look at, giving them more information and giving sales reps the opportunity to say hi.
New and emerging technology can be a real head-turner if implemented well. Things like virtual reality and facial recognition are still quite niche, but if used correctly they can draw in people looking for an experience they may have never had before. At BSAVA, we used digital screens called 'Thought Mirrors' that used facial recognition to add a mix of vet-related and funny thought bubbles to people's heads as they walked past. They are great for attracting attention, but also as a way to communicate innovation and reinforce Elanco's slogan of "Welcome to the Future".
Engaging them
Attracting visitors is only the first step though, once a visitor has stopped to have a look at your stand, they need to have an engaging experience that keeps them interested and makes them want to find out more.
To make this happen, the messaging and information needs to be clear and concise. Focusing on one or a few messages will make it quick and easy for visitors to understand what you do and interesting enough to make them want to know more.
While it's a classic tactic, providing good quality coffee can go a long way to enticing visitors who want something better than the free coffee provided or who don't want to pay huge amounts at venue cafés. If you have a nice seated area, it can also give your team time to chat with them while they sit and have a nice drink.
Another classic idea, but still very effective if done right, are competitions: Something fairly simple to complete, with a prize that is relevant or highly demanded by your target audience will certainly entice them to enter and can be a great way to gather contact details.
Whether you have a competition running, a survey to complete or simply want to capture visitors' details, make it as quick and easy as possible to do. Tablets like iPads are great as they are portable, store details in an organised way and (with an Internet connection) can be sent off immediately for your sales team to compile and prepare for follow up.
Elanco staff carried iPads during the show but we also utilised a large touchscreen called a Flatfrog, large enough to run four A4 sized screens at once, allowing groups of people to easily enter their details and help make the stand look busy by having multiple people stood around, interacting with it.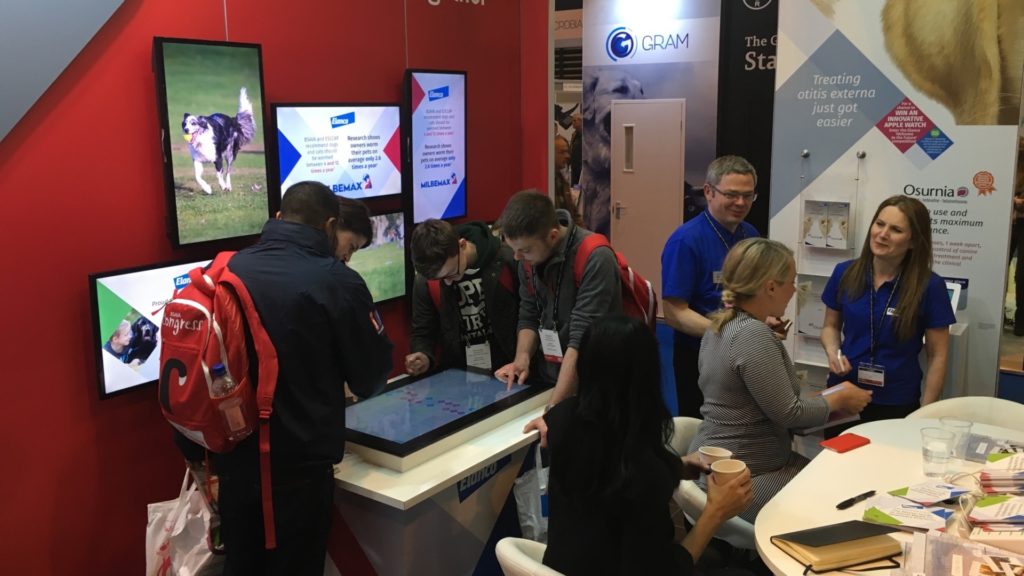 Brand yourself not just your stand
Of course, exhibition stand success is not just about the design itself, you need to consider how you design yourself and your promotion.
Holding group or 1-2-1 workshops are a great idea as they help promote you as a thought leader and make your stand look consistently busy. Elanco provided social media training for vets and we helped them design some of the collateral to promote the workshop.
You should also remember to reward the people who man your stand (and yourself). It is very important that everyone feels grateful for what they are doing and are rewarded for their hard work. It will help them stay motivated after hours, if not days, on the stand and will ensure visitors have the best experience possible.
When it comes to your promotion, social media is something very much worth considering as a way to get your name out there before and during an exhibition. If social media isn't a big part of your strategy, Twitter is a good place to start as it's a popular and open platform for businesses and many exhibition organisers have a presence and like to have hashtags in place so people can share their comments and experience, which can help you start and join conversations with relevant people.
Also, why not get in touch with bloggers and other online influencers in your industry that might be attending the event. Building relationships with influential figures is great for increasing exposure and potentially visitor numbers.
Exhibitions are a big investment, but if done right they can deliver huge rewards and help build long-term relationships. So be sure to think carefully about how you attract visitors, engage them on your stand and encourage them to give you their contact details. The time and effort you put into preparation will be more than made up for in the end.